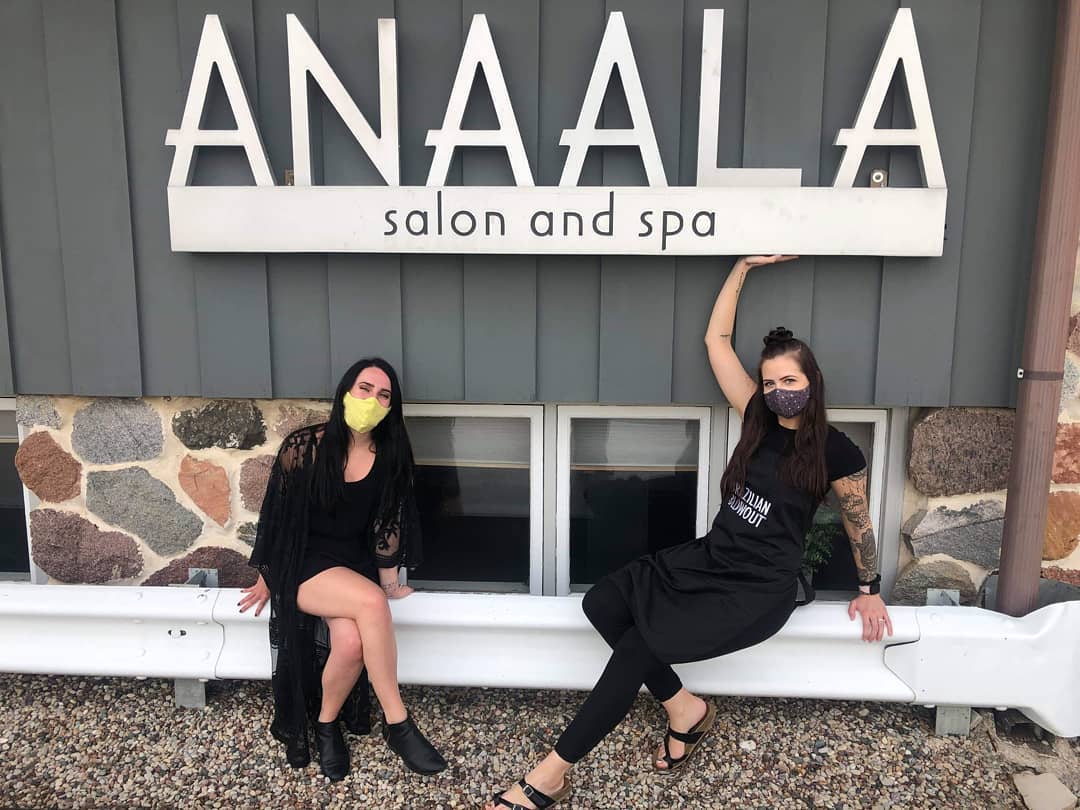 The COVID-19 pandemic has shaken up so much and taught us so many lessons about what's really important. One of these "silver lining" realizations is that when life gets stressful, having a job you love – and working side-by-side with people who have your best interests at heart – makes a huge difference.
View this post on Instagram
If you're looking to relocate to a company that supports your personal and professional interests, while prioritizing your well-being, Anaala Salon and Spa might just be the workplace for you. We've always been known for providing our guests with WOW experiences—and to do that, we realize you can't have happy guests without a happy team.
Here are three core values that are important to us at Anaala Salon and Spa:
1. Safety Is Everything. The cleanliness and sanitation levels at Anaala Salon and Spa have been superior since day one—that's part of being a high-end salon. Since the COVID-19 pandemic, we have been extra vigilant in taking every step possible to prevent virus transmission in our space.
View this post on Instagram
Our COVID-19 protocols go above and beyond the recommended safety measures for salons in Wisconsin. It is imperative to us that disease prevention come first. As a business, this means a greater burden of cost, logistical planning and execution, and energy than we were used to expending before the pandemic. It means prioritizing safety over convenience and profit.
It's not the easy thing to do, but it's the right thing to do—and for us, doing the right thing is non-negotiable. We want our team and guests to give and receive five-star services without compromising anyone's safety. We want Anaala Salon and Spa employees to not only be physically protected, but mentally reassured that coming to work will not put themselves or their families at risk. We want our team to do what they love—as safely as it's possible.
2. Learning Never Ends. The type of personality that fits in best at Anaala Salon and Spa is motivated, eager to learn and wants a career, not just a job. On our end, we want our employees to continue building the skills that fuel their passion and make them money.
Our training for new talent is designed to equip anyone with a cosmetology license, passion for their craft, and a good work ethic to thrive in the world of high-end beauty. Our ongoing continuing education opportunities means our entire team is paid to learn, to grow their careers, to pursue their passions, and to keep raising their income as they advance in the salon.
3. We're Nothing Without Our Team. At Anaala Salon and Spa we work together at all levels to achieve personal and professional goals, while providing stellar services that make our guests' day.
Our management is present, thoughtful, and constantly working to help their teams grow and thrive not only in this salon but in this industry. Our more advanced team members provide coaching and mentorship to less experienced colleagues, while peers on the same level help each other with support, advice, and backup.
There is no competition at Anaala Salon and Spa; here, it's not "my guest" or "your guest," but always OUR guest. When you work in an environment with an entire team having your back, it makes individual goals that much more achievable.
View this post on Instagram
What else? A competitive salary, benefits, and perks; opportunities to advance within our salon and in the industry; and a desire to give back to our community are all part of the Anaala Salon and Spa culture. You can read more about everything we have to offer on our Careers page.
Link: https://www.instagram.com/p/CAvpZhcjU1g/
If this sounds like you, reach out—we're always on the lookout for people who are the right fit for our team! Once we find them, we provide the training, support and opportunities so they can shine. Contact us at our Atwood location 608.244.2161 or at our Hilldale location at 608.441.6918.