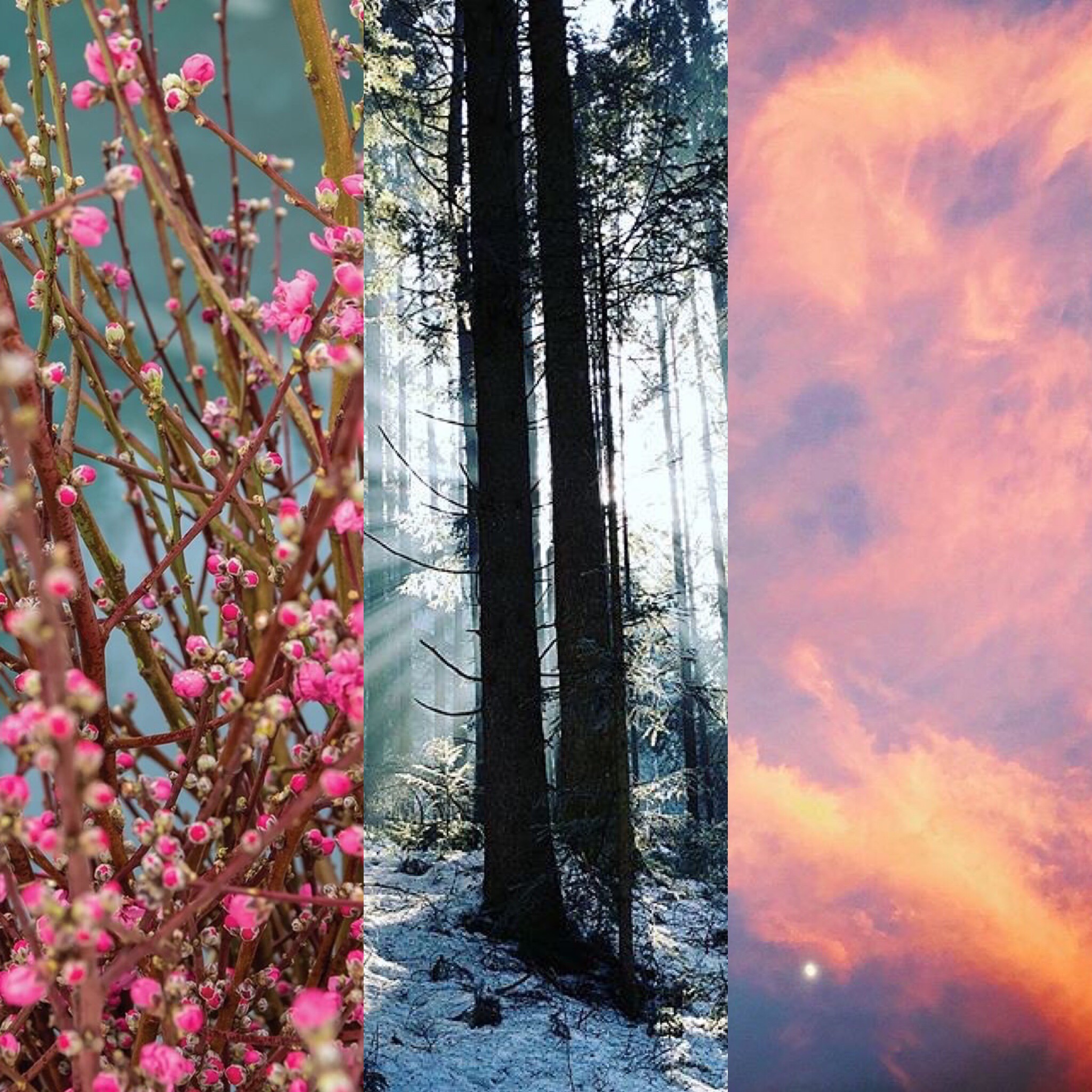 So you're out of another bottle of a shampoo or conditioner that only slightly did what it said it was going to do. If you're ready to say "Thank u, next" to your current hair care of choice but don't know where to start, we are here to help you. With last year's relaunch of Aveda's Cherry Almond and the current revamp of Rosemary Mint and Shampure, there are some serious options for you to consider that have stood the test of time (we're talking decades) because of the amazing results they provide. But which one is best, you ask? Take this quiz to find out what Aveda shampoo and conditioner is meant for you!
How often do you wash your hair?
A – When it starts to get oily
B – Every day
C – 2 to 3 times a week
What can you be found doing on the weekend?
A – Something for the community—volunteering, helping the environment, protesting
B – Catching up on errands and then heading to the coffee shop to meet friends
C – Going on a fun date or cocktails with your girls
What's playing in the background?
A – NPR, podcasts or live streams of political press conferences
B – A well thought-out playlist of all your favorite songs
C – All the latest hits
What's your main hair concern?
A – Oiliness and/or product build-up
B – No issues—just want great hair
C – Restoring softness and shine
What is your go-to hairstyle?
A – It changes every day—some days it's space buns, other days it's scrunchie time
B – A classic yet trendy haircut that works with my lifestyle (bob or lob, bangs, layers, curls…)
C – Long & flowing (*cue hair flip)
What's your dream vacation?
A – Backpacking through East Asia
B – Camping in the Poconos
C – An Instagram-worthy journey through Europe
Choose a fashion icon.
A – Tracee Ellis Ross
B – Meghan Markle
C – Kendall Jenner
What are your hair goals?
A – To find something that keeps it clean & oil-free without harsh chemicals
B – To keep it just as fresh & great looking as it is today
C – To grow it out & add shine and softness
What type of scent do you prefer?
A – Herbal and invigorating
B – Clean and calming
C – Sweet and alluring
What's your hair type?
A – Fine to medium, tends to get oily
B – Normal, fine to medium
C – Medium to thick, mild dryness
How do you like to relax?
A – Being outdoors, enjoying the sunshine
B – Cozy at home with a good book and cup of tea
C – Treating yourself to a pedicure or facial
Mostly A's
RADICAL ROSEMARY MINT
You are Rosemary Mint! A breath of fresh air—awake and aware of the world around you. You love trying new things, whether it's a new look or a new frame of mind. You care about the social and environmental issues in the world and stand up for what you believe in. Because of your creative and outgoing nature, you like to find new ways to express yourself and one of those ways is through your hair; you play with different cuts, styles, colors and products. A shampoo and conditioner that is free of harsh chemicals, gently clarifies, removes impurities and conditions without weighing your hair down, is ideal for you. Which is why you're going to love Rosemary Mint.
More reasons to love Rosemary Mint:
It's meant for oily, fine to medium hair
Eliminates product build-up
Protects against environmental aggressors
Vegan & cruelty-free
Invigorating aroma awakens the senses
Safe for color-treated hair
Energizes, awakens, improves focus
Micellar technology lifts dirt & oil, making it easier to rinse away
White vinegar removes impurities
Mostly B's
CLASSIC SHAMPURE
Classy and straightforward—you are Shampure! You like efficient routines and sticking to them, and this includes your hair. You love a daily wash to keep it clean and fresh—and let's face it, you can't resist a long, relaxing shower. Because you maintain your hair with utmost attention, it thanks you by not giving you too many problems. Yep, your hair behaves well and we are all jealous of you. Shampure is perfect for light daily cleansing and conditioning, ideal for those whose hair doesn't need anything too heavy or severe to keep in under control. You're going to love nourishing your hair with Shampure, as well as taking in the calming aroma every time you use it.
More reasons to love Shampure:
Perfect for daily cleansing
Silicone-free
Abyssinian oil is added to mimic the functional benefits of silicones without the build-up
Perfect for adding to a rotation of shampoos & conditioners
Subtly smooths and detangles
95% naturally derived
Vegan & cruelty-free
Organic lavender, ylang ylang, orange and petitgrain infuse hair with a calming aroma
Mostly C's
SASSY CHERRY ALMOND
Oh hey there Cherry Almond! You are sassy, fun and flirty with a bit of a wild streak. Your hair is your crown. You take pride in your locks that seem to turn heads everywhere you go. Whether it's a casual (but purposeful) flip from one side to the other, a twirl around your finger, or just a second-nature stroke through, you like to experience your hair throughout the day. It tends to be thicker, maybe longer and on the more resilient side, which is great because that means you don't have to wash it every day, in fact leaving it alone for a day or two gives it a playful texture that works really well for you. If you think you love your hair now, wait 'til you try Cherry Almond! It will deliver softening benefits for touchable hair, add shine and bounce, and leaves an irresistible, one-of-a-kind aroma.
More reasons to love Cherry Almond:
Cherry blossom extract and sweet almond oil blend nourishes the hair
Features omega-9 and omega-6 fats that help condition the hair and scalp
Babassu and organic coconut oil provide gentle, weightless cleansing
Shea butter deeply conditions to restore softness & shine
Silicone-free
Vegan & cruelty-free
Great for long hair
Now that you know your team, come into Anaala in Madison and Verona and sniff for yourself! We think it'll suit you perfectly.