One thing everyone around the world has in common in 2020 is the immediate need for self-care and stress release. With that in mind, Anaala Salon and Spa in Madison set out to put together the perfect Aveda gift guide just for 2020. If there's ever a year to give a little differently, a little more mindfully, with a little more thought—this is it.
This year, give nourishment to their hair, skin, and spirit—with mood-lifting aromatherapeutic formulas crafted from pure, natural botanical essences.
Give love—through natural and vegan formulas, responsibly sourced ingredients, and cruelty-free testing.
Give help to the planet—with energy-efficient manufacturing and post-consumer recycled packaging.
Give support to a small, local business—and keep your currency flowing where it matters most, in your own community.
Giving Aveda gift sets does all that, in price points that cover everyone in your life who needs a little pick-me-up. That covers pretty much everyone—including you! With products that are 20% off regular retail pricing, gifting yourself Aveda for the holidays is actually a pretty practical thing to do. (It just feels indulgent.)
If you're looking to buy gifts in bulk, we've got you—with gifts that make a connection with your clients or team. Call us at our Atwood location at 608.244.2161 or our Hilldale location at 608.441.6918 for Group Gifting services that make it easy and keep it local.
Gift sets come pre-wrapped for your convenience. Anaala Salon and Spa in Madison is open for shopping with extra care, or click the link on the gift set to purchase directly from our shelves to your door.
The Gift of A Little Joy   
Great For: Teachers, Secret Santa, Stocking Stuffers
Good things definitely come in small packages. Aveda's gift offerings this year include mini and travel sizes to keep them stylish on-the-go. At $25 and under price points, these thoughtful and luxe little surprises always bring a big smile.
FEED MY LIPS SHIMMER TOPPER DUO, $25
The Gift of Happy Hands & Feet 
Great for: Hostess Gifts, Fave Co-Workers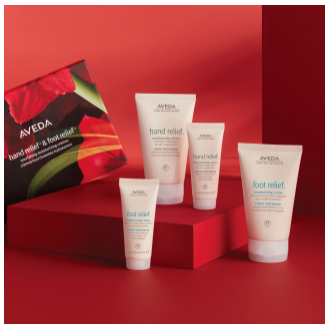 The upside of all that hand washing in 2020? Clean hands are always a good thing. The downside? All that scrubbing can strip hands of vital moisture. Give them a replenishing boost with Aveda's best-selling Hand Relief in three limited-edition aromas. Add some love for their tootsies too, with the invigorating peppermint-and-tea-tree-infused Foot Relief.
HAND RELIEF HYDRATION TRIO, $24
HAND RELIEF AND FOOT RELIEF NOURISHING MOISTURIZING CREMES, $56
The Gift Of Head-To-Toe Aromatherapy
Great for: Mom Friends, Mother-In-Law
Immerse them in mood-lifting aromas. Aveda's signature collections are known for their iconic aromas, offering truly sensory head-to-toe experiences as they soften and nourish skin and hair.
Rosemary Mint energizes and clarifies with certified organic rosemary, peppermint and spearmint that awaken the senses and improve focus.
Cherry Almond gets its naturally sweet floral aroma and nourishing formula with yummy ingredients like babassu and coconut.
Shampure provides gentle nourishment as it infuses the senses with a calming aroma from 25 pure flower and plant essences.
CHERRY ALMOND SOFTENING HAIR & BODY TRIO, $37
ROSEMARY MINT INVIGORATING HAIR & BODY CARE, $45
SHAMPURE NURTURING HAIR & BODY CARE, $45
The Gift of Fabulous Texture
Great for: Anyone With Curls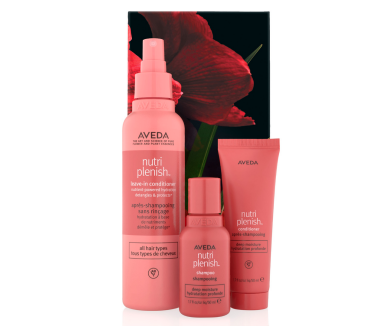 If someone on your list was blessed with natural waves, curls or coils, they probably have a love-hate relationship with their hair. Love—because who wouldn't love those luscious locks? Hate—because textured hair isn't easy. It needs proper hydration to live up to its full glory.
Make it all love when you give them a Nutriplenish gift set. Aveda's lush Nutriplenish line uses some of nature's most nutrient-dense superfoods to bring long-lasting moisture and hydration to even the thirstiest hair. Potent pomegranate oil, coconut oil and mango butter are the stars of the powerhouse formula that makes curls (and all dry hair) happy.
NUTRIPLENISH LIGHT MOISTURE HAIR TRIO, $49
NUTRIPLENISH DEEP MOISTURE HAIR TRIO, $49
NUTRIPLENISH LIGHT HYDRATION SET, $109
NUTRIPLENISH DEEP HYDRATION SET, $109
The Gift of Good Hair Days, Every Day
Great for: Mom, BFF, Sibling, Spouse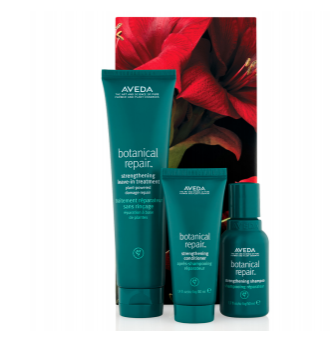 Imagine "bad hair days" could be avoided altogether? Imagine tresses were always shiny, healthy and easy to style? Most times when people struggle to make their locks look good, it's because their hair is damaged. We're happy to tell you that this year, you actually can give the gift of good hair days—every day.
Aveda has launched a revolutionary new hair-care line, Botanical Repair, which penetrates to the innermost core of the hair. It creates bonds at the molecular level and strengthens from the inside out. Not only does it reverse damage at all three levels of the hair, but does so through a formula that is 100 percent vegan and derived from plants.
This is probably the most inclusive hair care line we've ever worked with, as it is immediately beneficial to all textures of hair. This formula truly can repair all hair types from the baby-finest to the coarsest coils. Give them back the shiny, healthy hair they had before all that damage, and make them amazed at how effortlessly good their hair can look.
BOTANICAL REPAIR LIGHT STRENGTHENING STARTER SET, $36
BOTANICAL REPAIR RICH STRENGTHENING STARTER SET, $36
BOTANICAL REPAIR LIGHT STRENGTHENING SET, $116
BOTANICAL REPAIR RICH STRENGTHENING SET, $131
If giving experiences is more your style, we love that idea too. Send them our way for the gift of Me-Time at Anaala Salon and Spa in Madison. Click here to purchase a gift card.
2020 has been hard on everyone, but we can finish on a positive note by sharing a little self-care and a lot of thoughtful support with the ones we love!