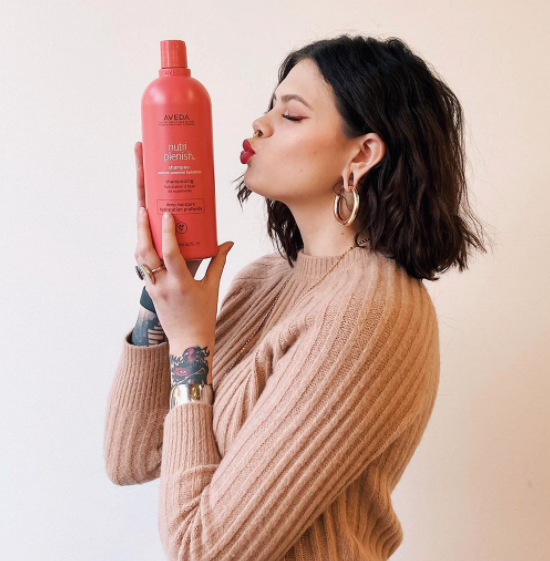 We think the idea that Valentine's Day is for couples only has come and gone. In our world, Valentine's Day is just about showing love, plain and simple. To your family, your friends, your pets—and especially to that one person who always deserves your time, attention and affection. YOU!
View this post on Instagram
This year, we propose you step out on Valentine's Day looking every bit the amazing queen or king you are, by lavishing your crowning glory – your hair – with some serious love that will leave it looking and feeling transformed. What better way to show the world you love yourself than by treating your tresses to a royal upgrade?
There are several ways to do that, either at home or at Anaala Salon and Spa, the very best salon in Madison. Here's how you can show your hair some heart-core love:
Botanical Repair Pro Treatment: Fix Serious Damage in Minutes   
Whether your hair is baby-fine, highly textured or somewhere in between, it is vulnerable to damage by environmental aggressors, heat styling, chemical treatments, or even brushing and detangling. Treat stressed strands to a 10-minute professional-grade Botanical Repair Treatment the next time you're at Anaala Salon and Spa.
This incredible vegan formula harnesses the power of plants to multiply the bonds that make up your hair, while smoothing and nourishing the cuticle. This quickie, cost-effective treatment leaves hair up to 5x stronger than when you came in!
These 10 worthwhile minutes in our chair is perfect for someone who wants visible improvement and instant gratification. (Who doesn't love that?)
View this post on Instagram
Nutriplenish Collection: Hydrate Your Locks With Nourishing Superfoods
 We all know superfoods are amazing for your body, so it shouldn't be too big a surprise that they are also ideal for your hair. Aveda's Nutriplenish formula is supercharged with ultra-nourishing ingredients including omega 5-rich pomegranate seed oil, coconut oil and mango butter.
The shampoo and conditioner comes in two levels – Light and Deep Moisture – with the biggest difference being the Deep line contains 50% more butters than its Light counterpart, which has fast-absorbing oils. No matter what your hair type or texture, if it needs a thorough quenching, you can't give it better than Nutriplenish. Add one of the leave-ins in the line (the spray conditioner or multi-use oil) to keep the moisturizing powers active in your hair for up to 72 hours.
Invati Advanced System: Combat Hair Thinning & Loss
Whether you've always wanted thicker, fuller hair – or you've experienced recent hair thinning and loss – Aveda has harnessed nature's most potent ingredients to give you that volume you crave. The line features an invigorating blend of Ayurvedic herbs to thicken hair and ultimately reduce loss by 53%.
It's a three-step system that includes a gentle shampoo to exfoliate, cleanse the scalp and prevent breakage during shampooing; a thickening conditioner that delivers weightless moisture, and a scalp revitalizer to invigorate the scalp and stimulate follicles to grow hair, support the natural keratin production of hair, and thicken by lifting hair at the root.
The ultimate result—less hair in your hairbrush, more shiny, strong and thick hair on your head.
Aveda Shine Service : Gloss Out Your Hair for Weeks
Yes, we can add a healthy shine to your hair for weeks, and no, it doesn't take long! Add a quick Aveda Shine service the next time you come visit us, and you'll leave with hair that is positively glowing with health. It's a conditioning blend of certified plant oils that improves the condition of your hair and provides radiant shine that lasts through 20 washes.
View this post on Instagram
Botanical Repair Collection: Strengthen & Repair Hair at Home  
You know all about the turbo-charged Botanical Repair pro treatment (above)—now, here is the home-care line to work its magic at home. Both the salon and home-care formulas repair damage at each of the three key layers of hair—the inner cortex, the middle cuticle, and the outer F-layer.
The full line includes Strengthening Shampoo & Conditioner, Intensive Strengthening Masque (Light and Rich formulas) and a Strengthening Leave-In Treatment. All with that fabulous Aveda aroma, per ushe. The results are undeniable. Our guests who have bought it tell us they can't stop touching their hair!
Everyone should give themselves whatever Love Potion their hair requires, but we also want to remind you that these hair solutions make amazing gifts for the people you love, too. You can shop from the Anaala Salon and Spa online store here, visit us for safe, sanitary in-salon shopping, or purchase gift cards online  for someone who would love us.
The best part? Not only are you lavishing love onto your most favorite people (yourself above all), but you're keeping the love contained within the community by supporting a local small business.
We love what we do at Anaala Salon and Spa because we get to make people look and feel amazing. We're told we make every appointment feel like Valentine's Day, so treat yourself and come see us!